"Yes, Drill Sergeant! One!"
How did I wind up on hands and knees in boots, fatigues, and helmet, pushing away the Kentucky dirt?
"Two."
I blame it on Elaine, my college classmate. If she hadn't invited me (or did I invite myself?) to hear the ROTC lunch pitch, would I ever have imagined that crawling through mud would be the start of a very fulfilling career? Not likely.  
Four, Drill Sergeant."
Pull-ups, push-ups, road marches and 0-dark-thirty morning runs, joining the Army was the best decision I had ever made at that point in my young life. I learned to lead and to follow. To persevere and be resilient. To serve a cause greater than myself.
"Six." 
It was the experience I had no idea I needed—and that transformed who I have become. 
"Nine, Drill Sergeant."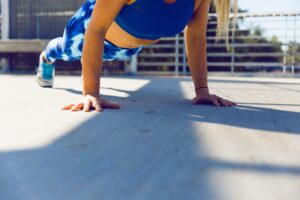 Here's to Elaine, my sister–in–arms.
For teaching me to drive stick in your red VW bug, stalling out on every hill from New Jersey to Kentucky and back.
For toughing it out and making sure I toughed it out too.
For daring me to uncover my own courage to be all I could be. 
"On your feet!" "Present, Arms!" 
On Veteran's Day, In gratitude, I salute you.
~ Who in your life has dared you to surpass your own expectations? ~
Photo credit: Ayo Ogunseinde, Unsplash